The Famous Mai Tai Story
As told to us by Trader Vic himself during an interview in San Francisco in 1970...
"The year was 1944. I had enjoyed success with several exotic rum drinks but felt a new one was needed. I knew that the key to a successful cocktail was simplicity, and so, at the service bar of my Oakland restaurant, I took down a 17-year-old J. Wray Nephew rum from Jamaica. It was medium-bodied, but held the rich pungent flavors of Caribbean rums. This great rum was never meant to be overpowered, so I simply took a lime, some orange curacao from Holland, a dash of rock candy syrup and a dollop of French orgeat for its subtle almond flavor, then added shaved ice and shook it by hand. I finished it off with a branch of fresh mint and gave the cocktail to two of my dearest friends, Ham and Carrie Guild from Tahiti, who were there that night."
"Mai Tai—Roe Ae," Carrie said after a single sip, which means "Out of this world—the best."
And, at that moment, one of the world's most famous and delicious drinks was born."
Experience it yourself!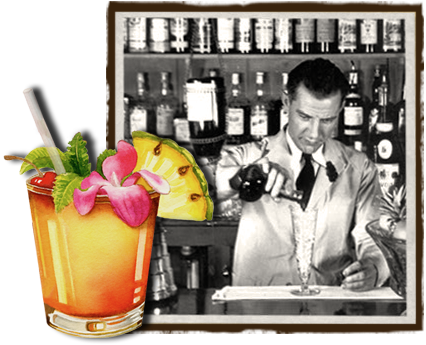 Mixing the Mai Tai
Mai Tai
1 oz Trader Vic's Silver Rum
1 oz Trader Vic's Dark Rum
½ oz Trader Vic's Orgeat Almond Syrup
3/4 oz Leroux Orange Curacao
1/4 oz Trader Vic's Rock Candy Syrup
1 oz Lime Juice
Shake with crushed ice and pour into a Mai Tai Glass. Garnish with a half lime shell and fresh mint.